Thanksgiving (also known as my favorite holiday) is almost upon us and this calls for an extra special cocktail. I was already thinking this and then was officially assigned one on my brother's (Geoff T) Thanksgiving weekend food and drink spreadsheet. I'm not the only one in my family who takes food and drink very seriously.
While this cocktail may look more like Christmas the flavors are perfect for Thanksgiving as pomegranate and rosemary pair well together. Plus the Rosemary-Brown Sugar Syrup keeps for a few months so you can make it now and still enjoy it at the next holiday.
I love to break open a whole fresh pomegranate to see the bright jewel-like seeds but the whole process to dislodge the seeds can be quite messy and wasteful. So, I was very excited to see Woodstock's Organic Pomegranate Kernels in the freezer section at my local Wegmans.  These are perfect for cocktails as you don't need to defrost them before using. They just keep the drink that much colder.
This drink is also quite versatile – if you don't like gin, try vodka or bourbon. Some ladies at my recent Gourmet Dinner Club gathering were quite pleased with either of these substitutions. Or mix 1 teaspoon juice and a 1/4 teaspoon syrup with Prosecco for a bubbly cocktail (I eyeball this version rather than measure – go easy on the syrup). Hendrick's gin is also gluten-free/wheat-free.
Holiday Tip:  While this recipe makes two cocktails this can easily be doubled or tripled and placed in a pitcher for easy serving. The syrup keeps for two months refrigerated so it can be made ahead of time.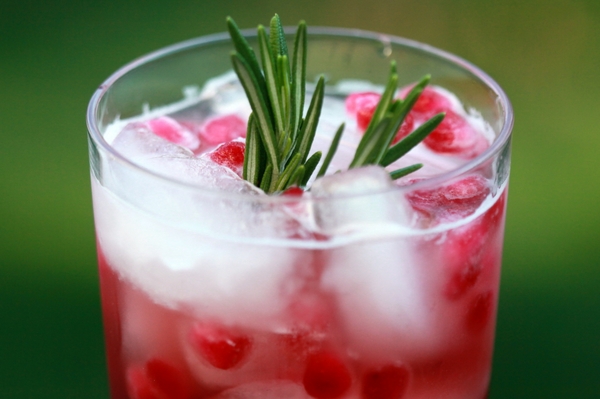 | | | |
| --- | --- | --- |
| Pomegranate-Rosemary Gin Cocktail | | Print |
Ingredients
4 ounces Hendrick's gin (or other high quality gin)
3 ounces pomegranate juice
2 ounces rosemary-brown sugar syrup
Seltzer water
2 small rosemary sprigs (for garnish)
~ 20 pomegranate seeds (for garnish)
Instructions
Fill highball glass with ice.
Place gin, pomegranate juice and rosemary-brown sugar syrup.
Top with seltzer and stir.
Garnish with a sprig of rosemary and 10 pomegranate seeds.
Notes
* I use POM 100% pomegranate juice.
* Recipe can be doubled, tripled, etc. and served in a pitcher.