Do you remember those days in the 1990's when "fat-free" was the food craze? Everything you could imagine came in a fat-free option. Thankfully this didn't last too long as wise people realized that taking out the fat was not only bad from a processing standpoint but also typically added to the calories. 
My boss, Rob B, was very into the "fat-free" craze so one year I made him a totally fat-free birthday treat.  I started with an angel food cake (naturally fat-free). I admit that I made it from a box – it was so much easier (even easier than when I was a child) to make. By that time I'd even made one from scratch but it wasn't any better so I deemed it the only cake I'd make from a box. The key was the topping – this fabulously fresh tasting (and also fat-free) raspberry sauce. It made for a simple but flavorful birthday treat but also became a versatile topping that I've used over the years for a variety of desserts.
Here I've unearthed it from my recipe archives to serve it with C&L's Chocolate Truffle Cake. But it would go well with any cake (chocolate, vanilla, angel food, cheesecake, etc.) or dessert that needs an extra special dollop of something not too sweet.
A special thank you to Kristie A for the beautiful tablespoon pictured with the sauce. She gave me a set of special fleur-de-lis spoons for my most recent birthday hoping that I'd use them in a picture some day. This is just the first of many!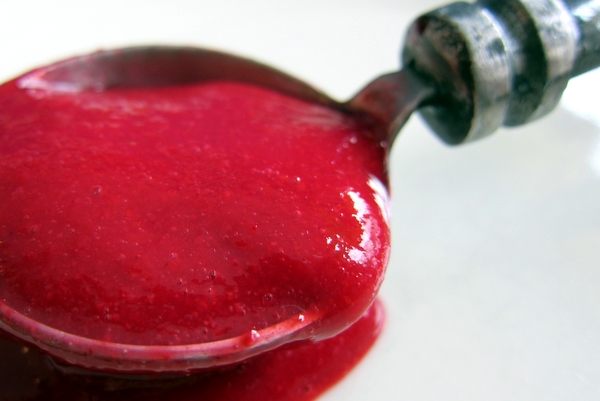 Ingredients
12 ounces fresh or frozen raspberries (thawed first)
⅓ cup powdered sugar
2 teaspoons lemon juice
Instructions
Process raspberries in a Vitamix or blender.
Add powdered sugar and lemon juice. Mix until smooth.
Strain through a sieve to remove seeds.
Cover and refrigerate. Lasts about 3 to 4 weeks.