Happy 3rd Birthday to Riegl Palate! Like last year, since I can't share an actual cake in person with all of you, I thought I'd share a very special cake recipe to celebrate. There are many things that I love about writing Riegl Palate that I never imagined would be so rewarding when I first conceived of writing a food blog. One of my favorites is the "foodie" connections that I've made to so many people. Today I want celebrate one of the first.
A few years ago Ed and I "won" a vacation home in Scottsdale, Arizona at a silent auction for a very good cause. When meeting with the owner to go over logistics about the home I found out that his brother also wrote a food blog. Brad A connected me to David A and we've been "foodie blog friends" every since. I like to describe David as the pen pal I never had in grade school despite my best efforts. He comments on almost every recipe and always has something fun to share – this support is hugely appreciated. David has been charming family and friends with his food adventures on Cocoa & Lavender since 2010. I can only hope to have a website as wonderful as his – I give you permission to leave my site to check out his so you can be wowed by his recipes, prose and photography.
Recently I was looking to make a cake for a dinner party that I could eat (being wheat-free) but would also accommodate my multi-food sensitivity friend, Wendy H. While looking I thought I should check to see what options David had to offer and I'm so glad I did (and what better way to celebrate a birthday than with one of his recipes). This cake has four ingredients (plus whatever you may choose to top it with) and only take 12 to 13 minutes to bake. Yes, you read that correctly – less than 15 minutes in the oven. I checked with David as I didn't believe that. The result? A perfectly yummy chocolate cake that will become staple in your recipe book. While flourless, it's not as dense as typical flourless cake which makes it a bit more versatile. It may crumble a little bit when cut but overall holds up very well. I recommend serving it with homemade Raspberry Sauce but freshly whipped cream also works well. Be sure to seek out really good quality chocolate and butter – it's worth it.
Three years has flown by! It's hard to believe that I've posted a new recipe every week since I started. It has been such fun and allowed me to stay connected to many more people than I every imagined. I love it when a friend from high school/college or far away family member makes one of my recipes. It's the closest I can come to being in the kitchen with them. A huge thank you to all who read, comment on, share and make recipes from Riegl Palate.
Cheers to the art of good eating and to many more years of Riegl Palate!
P.S.  If you aren't already following Riegl Palate on social media please consider doing so. Check out Riegl Palate on Facebook, Twitter, Pinterest and Instagram (my newest outlet).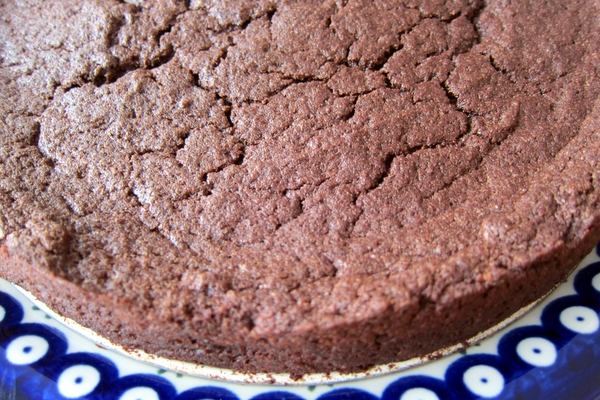 | | | |
| --- | --- | --- |
| C&L's Chocolate Truffle Cake | | Print |
Ingredients
1 pound best-quality chocolate, between 55-65% cacao
11 tablespoons (1 stick plus 3 tablespoons) unsalted high-quality butter - 10 tablespoons for baking/1 tablespoon to grease pan
pinch of sea salt
5 large eggs, room temperature
Raspberry Sauce or whipped cream for serving (optional)
Instructions
Preheat the oven to 375°F. Generously butter a 9-inch springform pan.
In a large metal bowl set over simmering water, melt the butter and chocolate together until smooth. Remove from the heat and stir in a pinch of salt. Let cool.
Place egg whites into the bowl of a stand mixer (or other large mixing bowl) and the yolks into a small bowl. Stir the yolks to blend with a fork, them stir into the cooled chocolate.
Beat the whites with the whisk attachment (or hand-held mixer) until stiff. Add a third of the beaten whites to the chocolate and stir with a wooden spoon or rubber spatula to lighten the batter. Gently fold on remaining whites and pour into prepared pan.
Bake for 12-13 minutes.
Remove from oven - the center should be jiggly.
Let cool 10 minutes on a rack. The sides should have shrunk from the edges a bit. Run a thin-bladed knife or spatula around the edges to loosen. Let cool completely in pan.
Remove the outer ring from the springform pan and slide onto a serving plate.
Slice into small wedges. Serve with a small dollop of Raspberry Sauce or freshly whipped cream.
Source:  Recipe from David Allen's 
Cocoa & Lavender
 (website)