Every time we visit Lake Champlain in the Adirondacks we make a trip to Lake Placid to visit one of our favorite brewpubs, Lake Placid Pub & Brewery. The beer, food and view are all fabulous. There are so many good things to eat on the menu (including a few tasty gluten-free flatbreads) that I have a hard time making a selection. I give Ed the challenge of selecting a beer for me (one less thing for me to select).
This soup is inspired by a menu item at Lake Placid Pub & Brewery that I've actually never eaten. The Smoked Gouda & Roasted Red Pepper Soup was once a "soup du jour" option that was so popular it's now on their regular menu. I've read this many times plus have heard many people around me order the soup.  I filed this away in my mind for future reference.
I searched for a recipe that I thought could come close to the image in my mind of this soup.  All of them contained heavy cream or half-and-half. I knew that I could make a creamy soup without the addition of dairy (let that come in the form of the Smoked Gouda cheese). I ended up using cannellini beans in place of dairy – adapting my Tomato, Cannellini Bean and Rosemary Soup to suit this recipe. They add a creaminess to the soup and some added protein, too.
The soup tastes very good before the cheese is added and is more amazing after its addition. Add the cheese to the hot soup and it will melt right in. I highly recommend grating your own cheese as you'll get a higher quality cheese. Plus, in this case, finding already grated smoked Gouda could be a chore. This soup is easy to make and comes together in an hour. It is also naturally gluten-free and wheat-free.
If you make it to Lake Placid Pub & Brewery try to sit outside on the upper deck as there's a great view of Mirror Lake (the town of Lake Placid is actually on Mirror Lake – Lake Placid isn't too far away).
This is the second installment in my 2016 Soup Series.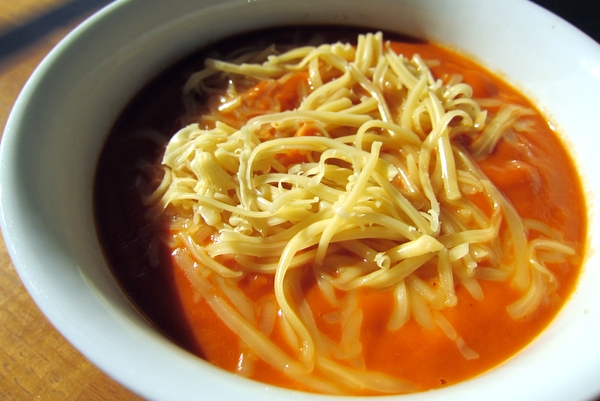 | | | |
| --- | --- | --- |
| Roasted Red Pepper, Tomato and Smoked Gouda Soup | | Print |
Serves:
6 servings (~ 9 cups)
Ingredients
2 tablespoons olive oil
1 onion, chopped
2 carrots, peeled and chopped (about 1 cup)
2 cloves garlic, chopped
16 ounces roasted red peppers, drained, rinsed and roughly chopped
1 28-ounce can crushed tomatoes
1 15-ounce can cannellini (white) beans, drained and rinsed
3 cups chicken broth
1 bay leaf
1 cup chopped fresh basil
½ teaspoon red pepper flakes
½ teaspoon salt
½ teaspoon freshly ground black pepper
6 ounces Smoked Gouda, shredded
Instructions
In a large soup pot, warm olive oil over medium-high heat.
Add onion, carrots, and garlic and cook until the vegetables are tender, about 4 minutes.
Add red peppers, tomatoes, beans, broth, bay leaf, basil, red pepper flakes, salt and pepper.
Bring the soup to a boil over high heat, then reduce the heat to low and simmer for 30 minutes, covered.
Remove the bay leaf.
Using a Vitamix, immersion hand blender, regular blender or food processor, purée the soup in batches until smooth. Return the soup to a soup pot and keep warm over low heat.
Shred Smoked Gouda by hand or using the shredding/grating attachment of a food processor.
Ladle soup into bowls and top each serving with 1-1/2 ounces of Smoked Gouda. Stir well until cheese is melted.
Notes
* Soup freezes well. Let cool and place in freezer-safe containers.
* Recipe doubles easily – use a 7 quart soup pot.
* I used a Vitamix to purée this soup, so it's smoother than it would be if you use an immersion hand blender, regular blender or food processor. Just in case your version doesn't look like the photo!