While I was preparing this dish, I couldn't help but think of Beatrix Potter's drawings in The Tale of Peter Rabbit. The vegetables, especially the wonderfully colored turnips, felt like they could have come from her pages. I grew up with Potter's books – I remember my mother keeping a copy of The Tale of Squirrel Nutkin in the glove compartment to entertain my sister, Dixie J, and me if we were bored in the car. Not only did Potter bring animals to life but their surroundings, as well.
This month's Gourmet Dinner Club (GDC) theme is "root vegetables" and I was assigned a side dish. Knowing that I had to make it ahead of time, I decided to adapt my Party Potatoes recipe – skipping the Yukon Gold potatoes (keeping the sweet potatoes) and using a variety of root vegetables in their place.
I used a combination of turnips, parsnips, rutabagas and sweet potatoes. I had never cooked the first three vegetables and found that they had a lovely aroma while being boiled – a more savory smell than you get from traditional potatoes.
You'll want to peel all of the vegetables and cut the turnips, parsnips and rutabagas into smaller pieces (1-inch cubes) than the sweet potatoes (1-1/2 inch cubes) as the sweet potatoes tend to cook faster. While I'm partial to very smooth traditional mashed potatoes, this dish is definitely more lumpy and I'm okay with that. It's reminding me that there's a variety of vegetables in it. If you want it to be smoother, you can blend it quickly in a food processor rather than using a potato masher. I tried to used my potato ricer (my go-to tool for making the perfect mashed potatoes) but it doesn't work for these vegetables as they don't all break down the same way that potatoes do.
You can make this dish a few days ahead of time (the step up until putting it in the oven) and bake it just before serving. You'll end up with a nice crust on top and a great side dish for a holiday table or a cold winter's meal.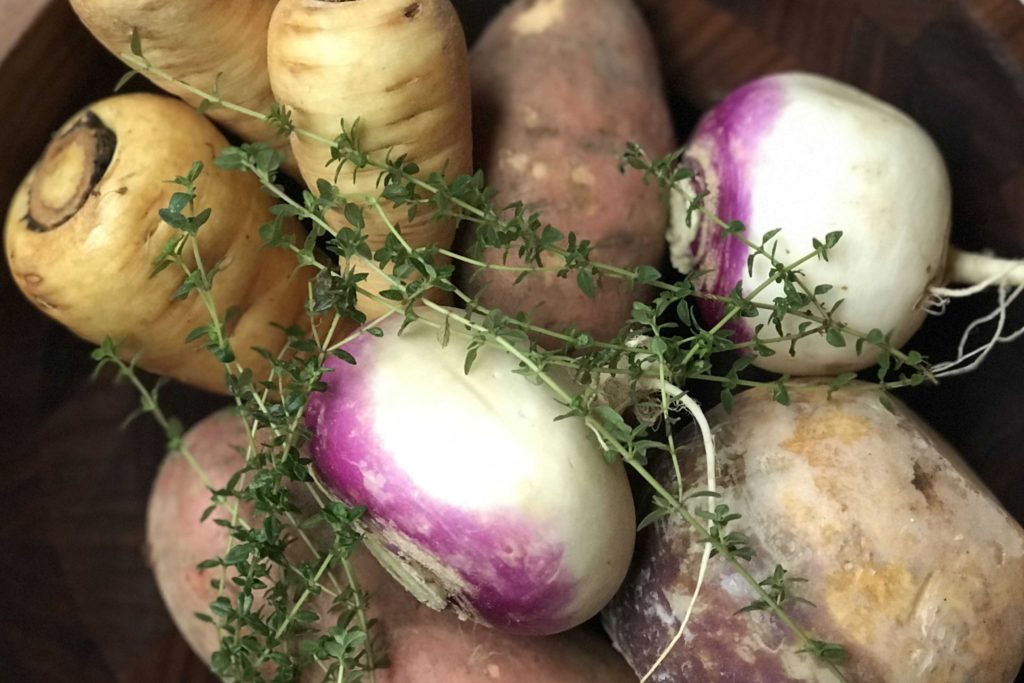 | | | |
| --- | --- | --- |
| Root Vegetable Mash | | Print |
Ingredients
4 pounds mixed root vegetables (turnips, parsnips, rutabagas and sweet potatoes)
6 cloves of garlic, skins removed
4 tablespoons butter, melted
3 tablespoons extra virgin olive oil
¼ cup half and half
1 tablespoon finely chopped fresh thyme
Salt and pepper
Instructions
Peel all vegetables. Cut turnips, parsnips and rutabagas into 1-inch cubes and sweet potatoes into 1-1/2 inch cubes (they cook faster).
Place vegetables and garlic in a large pot and cover with cold water. Cover and bring to boil on high heat. Turn down to medium heat and cook until all vegetables are cooked through and just barely break apart when "cut" with a fork – about 20 to 30 minutes. Drain vegetables.
Mash vegetables using potato masher – there will be lumps.
Using a wooden spoon, mix in butter, olive oil, half and half and thyme. You may need to add either more half and half and/or olive oil to reach the right creamy consistency. Salt and pepper to taste.
Using olive oil, lightly oil a deep baking dish (3 quart) and place vegetables in dish.
Preheat oven to 400°F. Bake vegetables uncovered until heated through about 35 minutes (or 45 minutes if refrigerated).
Notes
* For a smooth texture, mix vegetables in a food processor until just smooth and add in additional ingredients. Be careful not to over mix.
* Can be prepared up to 2 days ahead. Cover and refrigerate before baking. Or, you could eat them right away without baking them.
* Have other things in the oven that need to cook at another temperature (such as 350°F)? That's fine, just increase the cooking time.
* These are the perfect vegetables to make for a holiday dinner or large gathering because you can make them ahead, but they taste like they were freshly made.
* Recipe can be adjusted for smaller amounts.