Cornbread is a traditional addition to Thanksgiving dinner and was likely served as part of the first Thanksgiving feast. This cornbread gets a more savory flavor with the addition of rosemary. By using white whole wheat flour (you can use all-purpose flour if you prefer) which has the same nutritional value as regular whole wheat flour but is lighter in color and texture, these mini-muffins are entirely whole grain.
Since the holidays are a time for indulging, I highly recommend serving Goat Cheese Butter with these muffins. It's a great combination and well worth the calories.
Holiday Tip:  Make these muffins a few weeks prior and freeze them in aluminum foil. Defrost the morning you're serving and pop them in the oven for 10 minutes to heat at 300°F (if you have the oven on a higher temperature because you're cooking something else, just adjust the amount of time in the oven). The Goat Cheese Butter is even better on warm muffins.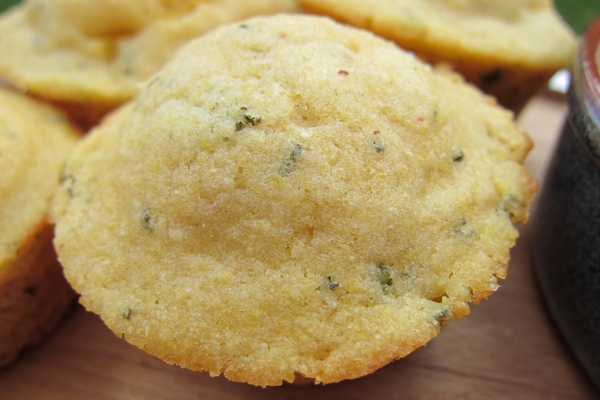 | | | |
| --- | --- | --- |
| Rosemary Corn Muffins | | Print |
Serves:
Makes 36 mini-muffins.
Ingredients
1 cup stone-ground cornmeal
1 cup white whole wheat flour or all-purpose flour
⅓ cup sugar
2½ teaspoons baking powder
¼ teaspoon salt
2 tablespoons rosemary, finely chopped
1 cup buttermilk (see note below)
6 tablespoons (3/4 stick) unsalted butter, melted
1 egg, slightly beaten
1 small can of corn, drained
Instructions
Preheat oven to 400°F.
Grease three mini-muffin pans (total of 36 muffins).
Stir dry ingredients (including rosemary) together in a bowl. Then stir in buttermilk, butter and egg and mix gently. Add can of corn and mix.
Pour batter in prepared mini-muffin pans, set on the middle rack of the oven and bake for 10-12 minutes.
Cornbread is done when edges are lightly browned and a knife inserted in the center comes out clean.
Notes
* Serve with
Goat Cheese Butter
.
* Freezes well.
* I recommend using SACO Cultured Buttermilk Blend in place of fresh buttermilk. You'll find it in the baking section of your grocery store. Follow directions on the container for use. It keeps for a few years refrigerated so you always have buttermilk on hand.
* White whole wheat flour has the same nutritional value as whole wheat flour but is lighter in color and texture. For this recipe you can substitute it 1:1 with regular all-purpose flour. I highly recommend using King Arthur Flour for all of your baking needs.
* Variations: bake in a 9-inch square baking pan for about 20-25 minutes or double recipe and bake in a 9×13 pan for about 30-35 minutes.