While I made this originally as an accompaniment to Rosemary Corn Muffins, it would also go well with bagels or toast, mashed or baked potatoes, or really anything you pair with butter. I highly recommend using high quality European-style butter or as we say "good butter" in our house. Once you try European-style butter you'll never go back to regular butter. Feel free to substitute your herb of choice for the chives.
Holiday Tip:  This butter keeps for a week, so make it a few days ahead of the holiday and keep it refrigerated.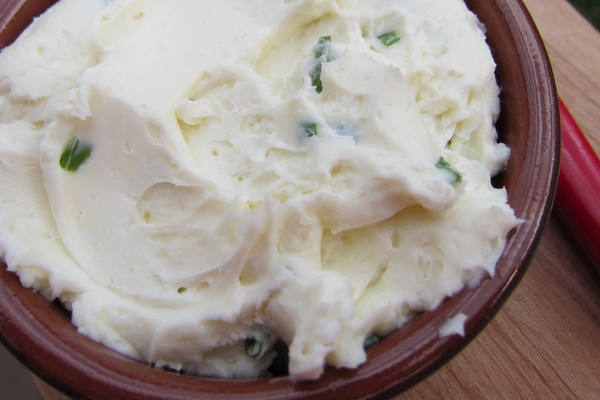 Ingredients
6 ounces goat cheese, softened
4 ounces European-style butter, softened
2 tablespoons chives, finely snipped
Coarse sea salt
Instructions
Place goat cheese, butter and chives in a bowl.
Mash with a fork until well combined.
Season to taste with sea salt (amount will depend on how salty the butter is).
Cover bowl and refrigerate until ready to use.
Bring to room temperature for 30 minutes prior to serving.
Notes
* Serve with
Rosemary Corn Muffins
.
* Use high quality goat cheese and European-style butter.
* Keeps, refrigerated, a week in the refrigerator.