It's always nice at the holidays to have a special recipe that is easy to make but will impress your friends and family. The great thing about this sauce is that you can serve it atop your favorite sweet but also give it as a gift (make sure to tell the recipient that it should be refrigerated).
The combination of sweet (caramel), salt (flaky sea salt) and bitter (coffee) makes for a complex sauce with relatively few ingredients. In fact it's only missing two of the five tastes (sour and savory/umami).
What to do with it? Drizzle it on homemade or store-bought vanilla ice cream, cheesecake or apple pie. Add it to hot chocolate. Or, if you're feeling truly decadent pour some over your French toast, waffles or pancakes.
The first time I made this I served it to an expectant mother so I made sure to use decaffeinated coffee – either works fine. You can also used espresso powder, just use a bit less of it as it's stronger.
Gluten-Free/Wheat-Free Option:  Do you need a dessert for your gluten-free family member or friend? Serve this sauce on top of some ice cream and I assure you all will be happy. The sauce is naturally gluten-free/wheat-free.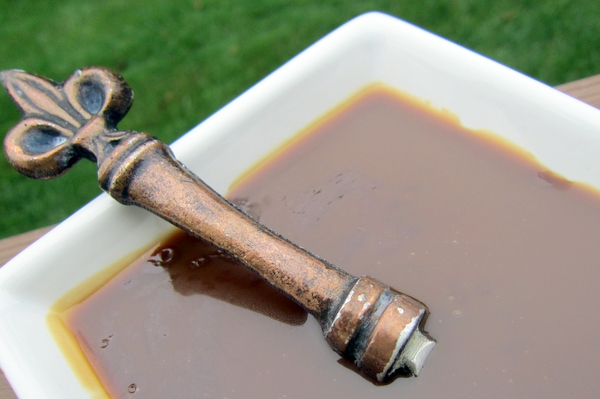 | | | |
| --- | --- | --- |
| Salted Caramel Coffee Sauce | | Print |
Ingredients
5 tablespoons unsalted butter, diced
½ cup packed light brown sugar
⅔ cup heavy cream
2 teaspoons instant coffee (decaffeinated is fine)
½ teaspoon flaky sea salt, such as Maldon
2 teaspoons vanilla extract
Instructions
In a small saucepan over medium heat melt butter. Once butter has completely melted, add sugar, heavy cream, coffee powder and salt. Whisk until all of the coffee powder has dissolved.
Bring mixture to a slow boil, whisking constantly. Turn down heat to low and simmer and whisking for an additional 3 minutes to thicken.
Remove caramel sauce from the heat and add the vanilla extract. Stir to combine.
Serve warm, at room temperature, or pour into a glass jar and refrigerate for later use. The caramel sauce will thicken once it cools. The sauce will keep refrigerated for 2 to 3 weeks.
To rewarm, microwave on low in bursts of 15 to 30 seconds, stirring between each session, until heated. Or reheat gently over low heat in a saucepan.
Notes
* Recipe can be easily doubled or tripled.
Source:  Adapted from The Kitchn