Ed loves grits. And, in case there's any question, he's not southern (unless you consider "southern" growing up on the South Shore of Long Island). When he travels to the South he looks forward to breakfast as he knows grits will be on the menu. So, when I had Smoked Gouda Grits last spring at a "Southern Brunch" hosted by friends, Celeste K and Wendy H (who both actually grew up in the South), I knew I had to make them for him.
Smoked Gouda Grits are almost like a cheesy polenta – a similar concept since they are both corn-based. While you more commonly see them served for breakfast, I served these as a side for dinner. They pair well with Tequila Ham Steaks and make for a great weekday meal.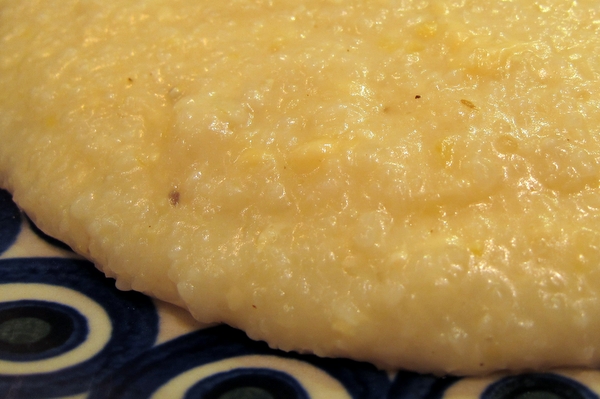 Ingredients
3 cups low-sodium chicken broth
1 cup 2% milk
½ teaspoon salt
¼ teaspoon freshly ground white pepper
1 cup uncooked quick-cooking grits
1-1/2 cups shredded Smoked Gouda cheese (about 6 ounces)
1 tablespoon unsalted butter
Instructions
Bring first 4 ingredients to a boil in a medium saucepan.
Gradually whisk in grits.
Cover, reduce heat, and simmer, stirring occasionally, 5 minutes or until thickened.
Add cheese and butter, stirring until melted.
Serve immediately.
Notes
To save you from wandering around the grocery store (like me), you'll find grits next to the oatmeal in the cereal section.