I was so excited last week when I saw strawberries were going to be at my local farmers market. We were having our friends, Reeve and Rosemary, for dinner that night and I knew that I wanted to make something simple to show off these luscious strawberries.
Once you've gotten your hands on great strawberries the rest is easy. For the base I used ricotta cheese (part skim) and sweetened it with honey. I prefer BelGioioso Ricotta Con Latte Part Skim Milk but any good quality ricotta will work. It resembles cannoli cream or the filling in a cassata cake. Resist consuming it right from the bowl.
I topped it off with a drizzle of balsamic syrup. My parents recently returned from a culinary trip to Italy (I'm living vicariously through them) and brought us back a precious bottle of Balsamico San Giacomo. It's cooked-down grape must that has been carefully aged for many years in various wooden barrels. The result is a slightly sweet and sour balsamic syrup. Don't worry if you don't have this in your pantry as many grocery stores or specialty stores sell balsamic syrups, plus I've included an easy recipe for making it at home (see recipe notes). You could use regular balsamic vinegar but I prefer the syrup for this recipe as it's slightly thicker.
I first had balsamic vinegar and strawberries in Florence, Italy in the early '90s – this is a nod to that wonderful dessert.
This treat is simple to make and quite adaptable. The ricotta base will pair nicely with all summer fruit. Plus, it's gluten-free and wheat-free.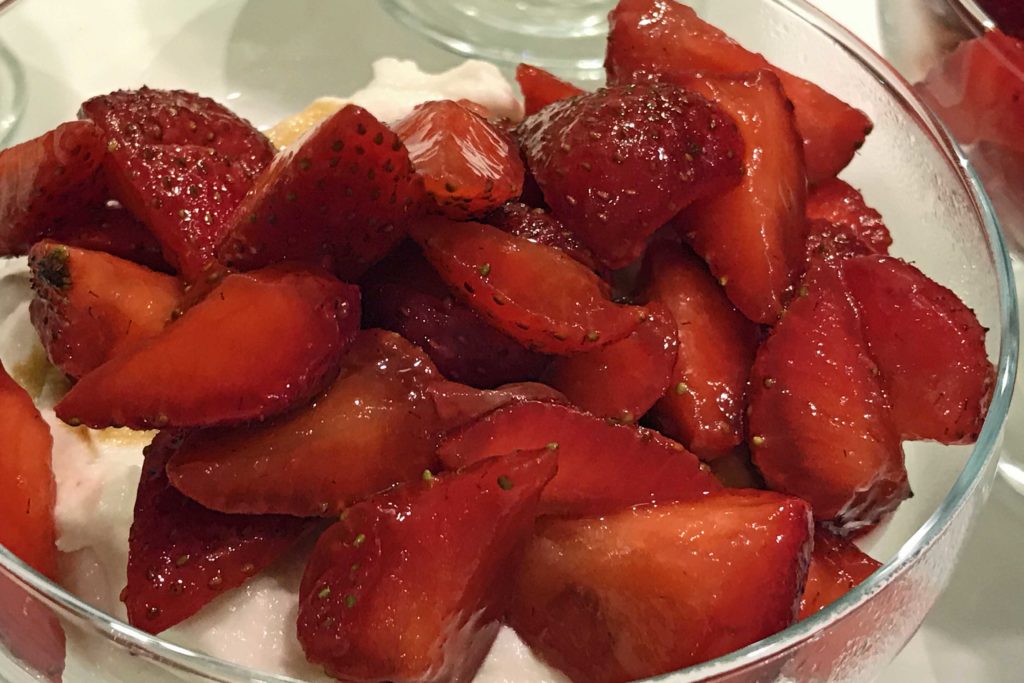 | | | |
| --- | --- | --- |
| Strawberries with Ricotta | | Print |
Ingredients
1 pint of fresh strawberries
16 ounces ricotta cheese, part skim milk
½ cup mild honey
Balsamic syrup (see Notes)
Instructions
Hull strawberries and cut into quarters. Can be cut a few hours in advance – cover and store at room temperature.
In a large food processor blend ricotta cheese and honey until smooth. Divide between four serving dishes. Can be made a few hours in advance, cover and refrigerate.
Before serving add strawberries to Ricotta cheese mixture and drizzle with balsamic syrup.
Notes
* I prefer
BelGioioso Ricotta Con Latte Part Skim Milk
.
* Balsamic vinegar glaze can be found in the vinegar section at many supermarkets. If unavailable, boil ¾ cup balsamic vinegar in a small saucepan until reduced to 3 tablespoons, 6 to 7 minutes.
* Recipe can be doubled or tripled.