Tomatoes may be gone for the season, but that doesn't mean you can't make a tasty salsa. For this salsa, I used cooked sweet potatoes in place of tomatoes which paired well with black beans. I added some more color to the mix with red peppers, cilantro and scallions.
I recommend serving this with a scoop-style tortilla chip, but any tortilla chip will do. While I made this to serve as an appetizer at a festive pumpkin carving party, it also makes a nice side salad or accompaniment to a main dish. I served the leftovers (which held up nicely) with grilled pork chops the following night.
If you have time, cook dried black beans – they are so tasty and so easy to make. If you use canned beans, rinse them well as you don't want them to discolor the beautiful salsa.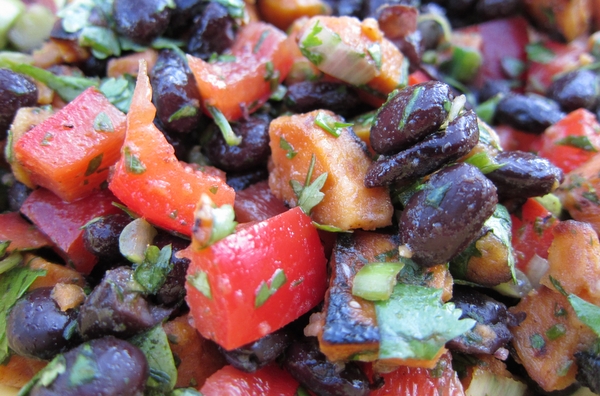 | | | |
| --- | --- | --- |
| Sweet Potato and Black Bean Salsa | | Print |
Recipe type:
Appetizer, Side
Serves:
Makes about 5 cups
Ingredients
2 medium sweet potatoes, about 2 cups chopped
2 tablespoons extra virgin olive oil
2 cups black beans, rinsed well
1 medium red pepper, cut into small pieces
1 medium jalapeño pepper, seeds removed and cut into fine pieces
½ cup chopped cilantro (about one large handful chopped)
4 scallions, thinly sliced
Tortilla chips for serving
Juice of one lime, about an ounce
2 tablespoons sherry vinegar
2 tablespoons extra virgin olive oil
Instructions
Peel and cut the sweet potatoes in about a ¼-inch dice. Heat 2 tablespoons extra virgin olive oil
in a 12-inch non-stick skillet over medium-high heat. Cook sweet potatoes for about 15 minutes until they are softened and a bit blackened. They should be somewhat soft on the inside. Let cool.
While sweet potatoes are cooling, Whisk lime juice and sherry vinegar in a small bowl to blend. Add extra virgin olive oil in a steady stream while whisking. Season with salt and pepper.
Place sweet potatoes, black beans, red pepper, jalapeño pepper, cilantro, and scallions in a bowl. Toss with dressing to coat.
Cover and refrigerate at least an hour and up to three hours before serving.
Serve with tortilla chips.
Notes
* Sweet potato and black bean ratio should be about one to one; adjust accordingly.
* I highly recommend preparing
dried beans
for this recipe if you have time - they are so much better.
* While I served this as an appetizer, it can also be a side or accompaniment to a main dish.