Tequila-based drinks are good any time of the year but are particularly refreshing during the warmer months. Here's one last nod to summer. Think of this as a lighter version of a margarita – variation on the ingredients with some club soda (or seltzer) to top it off.
Here I've used Cara Cara oranges, Ruby Red grapefruit and limes for the citrus base. You can use any variation of oranges or grapefruit – I prefer both the flavor and color of these varieties.  The Cara Cara oranges look like your typical navel but the flesh is a deep red color and the flavor is sweeter and more complex.   
I like margaritas as I've posted four different varieties since starting Riegl Palate in 2012. This one is closest to The Riegl Margarita II which is our go-to margarita. You can easily double or triple this recipe and place all ingredients in a pitcher. Pour this mixture into glasses and top with club soda before serving. Did you know that by adding the "bubbly ingredient" last it naturally stirs the drink?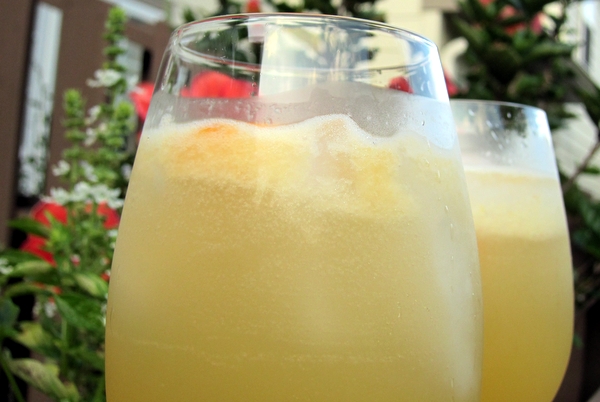 | | | |
| --- | --- | --- |
| Tequila-Citrus Spritzer | | Print |
Ingredients
3 ounces high quality white or silver tequila
4 ounces freshly squeezed Cara Cara orange juice (~ 3 oranges)
2 ounce freshly squeezed Ruby Red grapefruit juice (~ 1 grapefruit)
1 ounce freshly squeezed lime juice (~ 2 limes)
2 teaspoons agave syrup
Club soda or seltzer, chilled
Orange twist for garnish
Instructions
Combine tequila,orange juice, grapefruit juice, lime juice and agave syrup in a cocktail shaker.
Fill shaker with ice. Shake vigorously for 30 seconds.
Strain into a white wine glass or double old-fashioned glass and top with club soda.
Garnish with orange twist.
Notes
* Any orange or grapefruit can be used for this drink if you can't find Cara Cara oranges or Ruby Red grapefruits. I like the taste and the color of these varieties.