This dip is good all year round but particularly good now as it contains black-eyed peas which when eaten on New Year's Eve or New Year's Day are thought to bring you luck and prosperity in the new year. Who wouldn't like a bit of that?
Just to be clear there are no fish eggs in this dip so don't be scared off by the name if you're not a salty fish egg lover (or disappointed if you are). I tried to find some explanation for why it has caviar in the title but came up short.
Is a great selection of legumes (black beans and black-eyed peas), peppers (red and jalapeño), corn and celery plus a sweet-tart sauce that brings it all together. Given the beans there's a fair amount of protein in this dip which makes it more filling then others. I recommend using a scoop-style tortilla chip so you don't drop anything. Do let it sit for a few hours or overnight so the flavors can develop. It gets better with age and will last a few days.
While I got this recipe many years ago from a Bunco gathering my best memory of serving it was the first time we were invited to dinner at our friends' Mike and Wendy H's house. Without me knowing their tastes it was well received. I guess it's true what they say about black-eyed peas – they do bring you a bit of luck!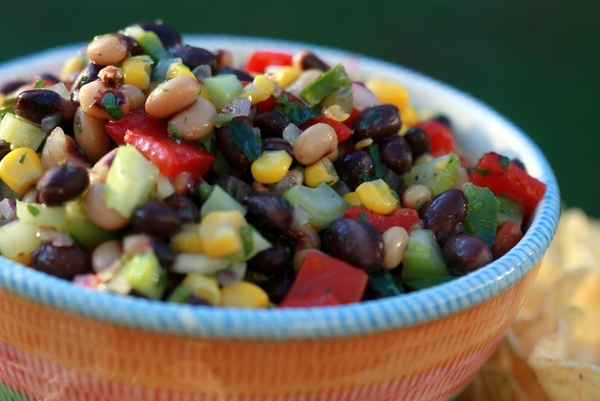 Ingredients
¼ cup apple cider vinegar
¼ cup sugar
½ cup olive oil
1 15 ounce black beans
1 15 ounce black-eyed peas
1 cup white or yellow corn
¼ cup red onion, chopped
½ cup roasted red peppers, chopped
1 jalapeño, finely chopped
2 stalks celery, chopped
2 tablespoons chopped cilantro
Serve with: scoop tortilla chips (such as Tostito's)
Instructions
Combine olive oil, vinegar and sugar in a saucepan over medium heat. Stir until sugar is dissolved.
Combine all other ingredients in a bowl. Add the vinegar-oil mixture and mix well.
Let it sit overnight (or at least 4 hours), stirring a few times.
Before serving, drain some or all of liquid. Let sit out for about 30 minutes before serving.
Best served with a "scoop" tortilla chip.
Notes
Dip will last a few days, refrigerated.