Thanksgiving Dinner wouldn't be the same without homemade cranberry sauce. However, there are many other ways to enjoy cranberries during Thanksgiving. Here they're featured in a slightly savory syrup that adds great flavors to a traditional Gin and Tonic cocktail (which also works for those December holidays, too). And for those traditionalists – I'm so over the fact that G&T's are only served from Memorial Day to Labor Day.
The Cranberry-Thyme Syrup is made with juniper berries which gives it an even stronger connection to a flavorful gin such as Hendrick's. While I prefer to use a few dashes of Regans' Orange Bitters No. 6 any orange bitters will do. If you don't have any orange bitters, squeeze the oil from an orange twist over the drink instead (and drop it in the drink). Don't skimp on the tonic water – you've gone to all the trouble to make a syrup make sure you find some high quality tonic water such as Fever Tree or Q Tonic.
When I tried these out on Ed a few weeks ago and asked him what he thought he said "tastes like more." I had to agree.
Holiday Tip:  While this recipe makes two cocktails this can easily be doubled or tripled and placed in a pitcher for easy serving. The syrup keeps for two months refrigerated so it can be made ahead of time.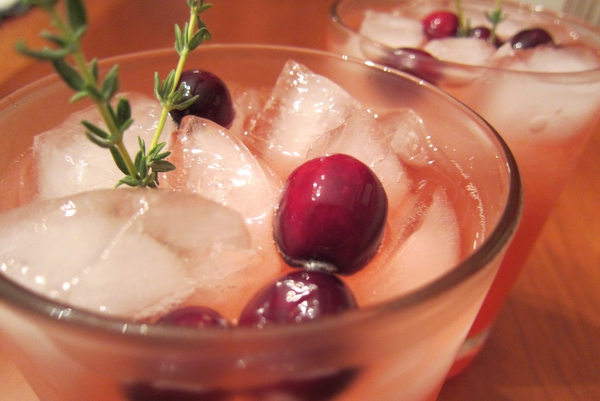 | | | |
| --- | --- | --- |
| Cranberry-Thyme Gin and Tonic | | Print |
Ingredients
4 ounces Hendrick's gin (or other high quality gin)
2 ounces Cranberry-Thyme Syrup
2 dashes Regans' Orange Bitters No. 6 (or other orange bitters)
High quality tonic water (such as Fever-Tree Tonic or Q Tonic)
3-4 fresh cranberries (for garnish)
2 sprigs of fresh thyme (for garnish)
Instructions
Fill highball glass with ice. Place gin and cranberry-thyme syrup and add 2 dashes of bitters. Top with tonic water and stir.
Garnish with cranberries and thyme sprigs.
Notes
* Recipe can be doubled, tripled, etc. and served in a pitcher.
* If you don't have a orange bitters add a piece of orange peel.