I've been thinking about making a corn soup this summer and was waiting until the local corn was in its prime. We recently had a great dinner (food and wine) with Carolyn R and Jonathan R. Carolyn made this yummy cold soup and I knew that I had to give it a try.
Starting with the freshest ingredients is key to this recipe being successful. This is the perfect excuse to seek out your favorite farm stand or farmers market. For my local readers, stop by one of those great farm stands on your way home from the shore (for my non-local readers, "shore" means beach in southern New Jersey) to pick up corn and tomatoes. There's a reason why New Jersey is called the Garden State.
Look for the absolute sweetest corn you can find. I went to Eagles Farm Stand in Malvern, PA (intersection of Routes 30 and 352) and asked which of their corn was sweeter – in this case it was the white corn instead of the bi-color corn. And while you could use red tomatoes, I prefer the color you get using yellow or orange cherry tomatoes. I was fortunate to find ones that were bursting with flavor. Ideally you'd get your yellow pepper, shallot, garlic and jalapeño pepper at a farm stand, too. But if that's not an option, you're fine getting those from your grocery store.
Adding cooked beans to the soup makes it more creamy plus more filling and satisfying since the beans are high protein. Check out Riegl Palate's Tomato, Cannellini Bean and Rosemary Soup and Roasted Red Pepper, Tomato and Smoked Gouda Soup which are both hot soups that include beans.
You'll want to blend this until it's very smooth. I used a Vitamix which does a great job of blending – if you're using a food processor or blender your soup may not be as smooth but will still taste great.
An added bonus of this soup is that there's no cooking involved (not even the corn is cooked) making it even more perfect for this time of year.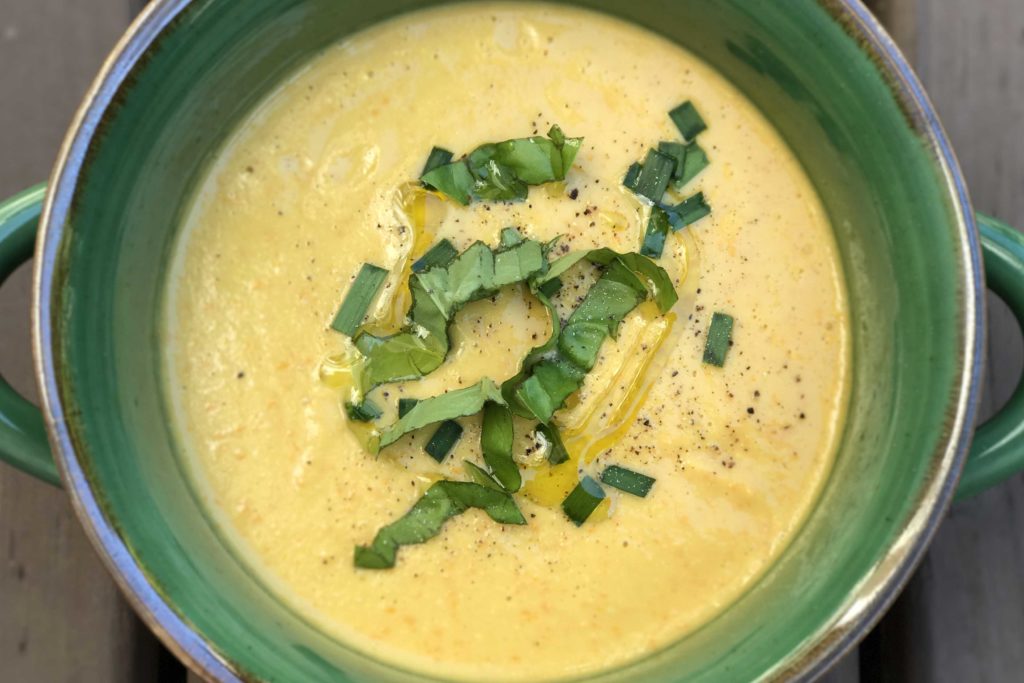 | | | |
| --- | --- | --- |
| Spicy Corn and Bean Gazpacho | | Print |
Ingredients
4 ears of sweet corn
2 pints sweet yellow or orange cherry tomatoes
1 yellow bell pepper, quartered
1 small shallot, quartered
1 medium garlic clove
1 jalapeño pepper, seeds removed and quartered
1 teaspoon sea salt
1 15.5 ounce can Great Northern white beans, drained and rinsed
¼ cup sherry vinegar
¼ cup extra virgin olive oil plus more for drizzling
1 tablespoon freshly squeezed lemon juice (~ ½ lemon)
Garnish: fresh chives and/or basil, chopped plus a drizzle of good quality extra virgin olive oil and freshly ground pepper
Instructions
Shuck corn and remove kernels using a knife or corn stripping tool. You should have about 1-1/2 cups of kernels plus juice.
Place all ingredients (except chives and/or basil for garnish) and a bowl and stir. Let sit for 30 minutes.
Transfer to a food processor, blender or Vitamix and blend until smooth – about two minutes.
Transfer to container and refrigerate for a few hours (or overnight) for flavors to develop.
Remove from refrigerator 30 minutes before serving.
Garnish with chopped chives and/or basil plus a drizzle of good quality extra virgin olive oil and freshly ground black pepper.
Source:  Adapted from Vegetarian 'Ventures